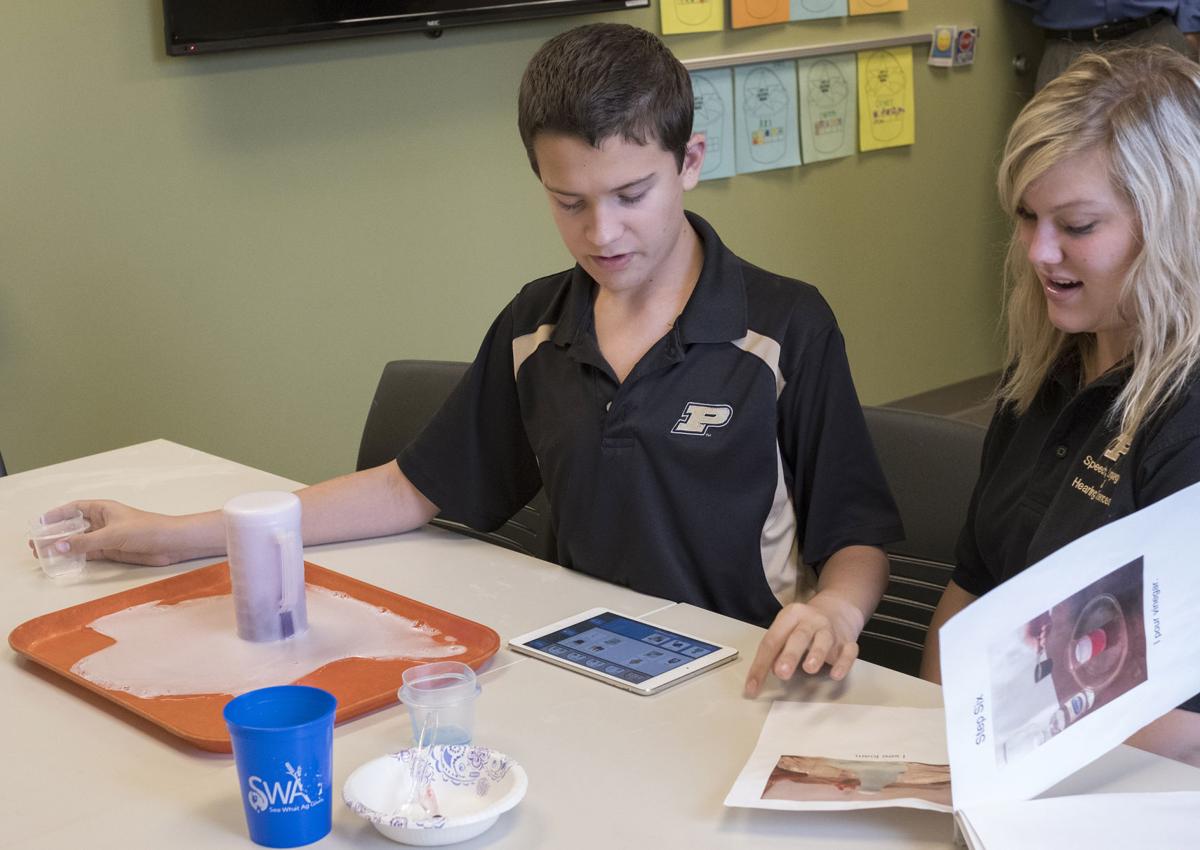 —
KOKOMO — For parents of children with autism, finding ways of effective communication can be a struggle. But an app developed at Purdue University could ease some of that stress for both parents and children.
SPEAKall was created to help children with autism who are nonverbal or have trouble communicating. The app was recently named to the R&D Top 100, an award that recognizes the best new technology innovations from the past year.
Oliver Wendt, an assistant professor of speech, language and hearing and special education at Purdue's West Lafayette campus, said he initially started working on the project in the 2011-2012 school year. At the time, the app was an engineering project that combined programming and community service.
Wendt wanted to focus on technology that could help people with autism because he saw a growing number of people diagnosed with the disorder, and when he started development, existing technology was either expensive or a heavy burden for children to carry around.
The beauty of Wendt's app, he said, is that children can select from a large database of icons and pictures all compiled onto an iPad, making it more accessible for children who have trouble communicating.
Today, the SPEAKall app is more sophisticated and professional than the prototype Wendt and his students initially put together. Using the app, children can select icons and pictures to communicate. Parents and children can record their own voices, or use software like Siri to voice the words for the icons.
"[The children] have more control over their life," Wendt said. "It gets them a good head start in good speech and language development. They can construct simple sentences. Their own voice is evolving."
Wendt said he and his team had to start charging for the app because of a high demand and the need to bring on professional developers. The app costs about $40 in the Apple and Google Play stores, but that price is worth it, said Steve Beaudoin, a Purdue professor and a father of a child with autism.
Before SPEAKall, Beaudoin would cut out pictures of different things and paste them into a book for his son, David, to carry around.
"Imagine carrying around a phone book of pictures," Steve Beaudoin said. "Then Oliver showed up with an app, and it was like, 'Oh, this is easy.' Compared to the cost of all of the supplies for cutting out pictures all over the darn place, if you can imagine a binder with literally hundreds upon hundreds of pictures, then you go to an iPad, which he just absolutely loves. It makes so many things so much more convenient."
For some children, bulkier, low-tech devices can work well, said Cathy Pratt, director of the Indiana Resource Center for Autism in Bloomington. For others, more advanced technology, like SPEAKall, can work better – it all depends on the child. But whatever devices the children use, Pratt said it's important for parents and educators to integrate that technology into their child's life. Some parents try to anticipate their child's wishes, removing the necessity of having these devices, which can hurt the children in the long run.
"Don't anticipate your child's every need so that they have to use their communication device," Pratt said. "I'm always looking at children in terms of where they will be at 30, 35. If we always anticipate their need, and we're always giving them what they need before they ask for it, then we're not preparing them to be as independent as they can be."
And Steve Beaudoin said it helps create a sense of stability for his son. For children with severe autism, it's often hard to process changing facial expressions, and it's confusing when someone has a sad expression though they might be saying something positive. With the app, David Beaudoin sees consistent symbols and words and can bypass changing facial patterns.
"Those things have been really helpful," he said. "It's hard to teach those things face to face. His ability to talk to us … he has really made a lot of progress."
According to R&D's website, SPEAKall won the Top 100 award because, though it is similar to other applications, it focuses on children with autism or other developmental disorders that are often ignored in similar technology.
Wendt said he and his team are proud to have won the award, adding that the R&D Top 100 is like the Oscars of inventions.
"For me, it's very great, and for my team it's a great experience," Wendt said. "I couldn't be happier about making such an impact for our community. It's been a wonderful journey for all of us."
Wendt and his team are currently developing a new app, SPEAKmore, which is a more in-depth learning experience for children who have already learned basic communication skills through SPEAKall. The app is currently in the prototype stage, and is available for free.